Like just about everyone in Blogsville, I am addicted to Pinterest! Yes, I am an addict. I love inspiration as you know for some of my paintings but I ran across this one day...
Well I knew once I pinned this, I was going to create a mug set of Harry Potter Mugs. I searched and looked at the Harry Potter Lego Characters to be inspired by other characters. Tada! My Harry Potter Mug Set..
front
back
Now, I did not use the Sharpie markers which is all over Pinterest. I have used Sharpie markers for decorative plates, but if you want to eat off the plate then Sharpie is not the media you want to use. You want to use a pen media which is made for ceramic and non-toxic. I used Pebeo Porcelain 150 Marker. After you have your markers in the colors you need, you need your mugs. I found these at the Dollar Tree but I am picking up many more and different colors at Wal-Mart, like the one I made for Mrs Tee over at
Mrs Tee Love Life Laughter
I wanted to make her a special mug and one that represented her blog.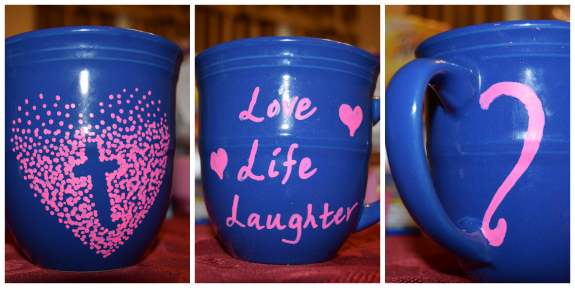 Photo by Mrs Tee
Alright back to the "How To" ...
After washing the mug, you will still need to use rubbing alchol to wipe the surface you are going to decorate. This will remove all soap residue.
Draw your design on the mug and let it sit for at least 24 hours. (This is the last color you put on, some designs may require drying time to layer your design.)
After the drying time, you will need to place your mugs on a baking sheet and place in your oven, this should be a cold oven. Set the oven to 325 degrees.
Turn the oven off after 45 minutes and let the mug complete cool prior to removing. You will need to let it set for 72 hours prior to using.
The mugs need to be hand washed and are not microwaveable.
I plan to make a set for one of the kids for Christmas. Now I have to figure out which kid will get them. I have so many other possible ideas to make for them. I cannot make up my mind who will get what. Watch for more later to come this year to find out what other mug sets I will make. After Christmas I will share who will get what since sweet Hannah reads my post, I cannot give away any surprises that my be coming into her home with Matthew. *wink*
One thing I learned after I made this, I did make one mistake, you should not have your color so close to the edge of the cup. This set will need to have the faces away from the users face to drink out of, just to play it safe.