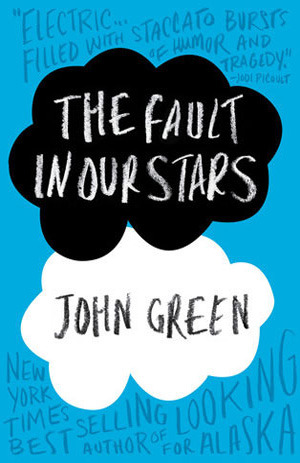 This award winning author John Green did a great job with this book. I think it is the modern day of Romeo and Juliet. Hazel is lucky still to be alive and living on borrowed time. Despite wanting to stay away from relationships with anyone new she falls in love with Augustus Waters a boy who started to attend a Cancer Kid Support Group.
Despite the tumor-shrinking medical miracle th

at has bought her a few years, Hazel has never been anything but terminal, her final chapter inscribed upon diagnosis. But when a gorgeous plot twist named Augustus Waters suddenly appears at Cancer Kid Support Group, Hazel's story is about to be completely rewritten.

Insightful, bold, irreverent, and raw, The Fault in Our Stars
I loved the humor I found in this book, something which was surprising when you think it is about a book of two teenagers who have cancer and fall in love. This book is also very heartbreaking, I definitely shed a few tears, but it is worth reading. I thought I knew how this book was going to end but was so surprised how the author took the story in a different direction.
Hazel had no intentions of getting close to anyone new because she knew her days were numbered. She felt bad for her parents but knew there was no way to detach to them to avoid the pain they will feel. She did not want to suck anyone else in to hurt. She felt guilty about her mother being there for every minute of the day.
Augustus Waters' character was such a breath of life. This character was definitely the glass is half full type of person. He was a positive character and had such a sense of humor. Cancer was not going to kick his butt any one bit and he was determined to help others as well. His character was the type who would give the shirt off his own back and give to someone in need.
At first I had a hard time reading it because of my Dad's battle with cancer but I am so happy I stuck through it. I never watched the movie until after I read the book first. The movie was good but the book was much better, just a little more details. The movie was very true to the book.
What have you been reading? Hop on over to Art@Home. Every Friday there is a little party over there where others link up their book reviews as well.